Overview
Strike Resources is focused on further growing the resource base of its large-scale iron ore projects Apurimac and Cusco in southern Peru. By continuing to advance exploration activities and feasibility studies at Apurimac, and supporting drilling programs conducted at Cusco, the Company is actively working to demonstrate the viability of a 20 million tonne per annum (mtpa) iron ore business in the near term. 
In establishing a sound and viable business approach with both the Apurimac and Cusco projects, and consolidating its equity position in Apurimac Ferrum as the major iron ore company in southern Peru, Strike Resources will look to engage with a strategic investment partner to bring its projects into a development stage over the long term.
Strike Projects Fast Facts
Strike holds interest in large scale iron-ore projects in Apurimac and Cusco regions of southern Peru
The Company is seeking to establish a 20 Mtpa business
The Apurimac project is in pre-feasibility study stage
Current iron-ore mineral resources total 374 mt
Potential access to 179 mt held by Cuervo Resources
Substantial exploration upside exists for iron and copper/gold
To read more about the Apurimac Project, click here or to read more about the Cusco Project, please click here.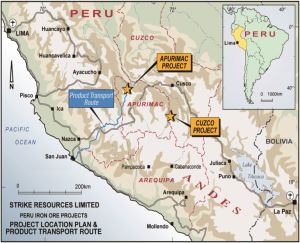 Above: AF and Cusco Project locations within Peru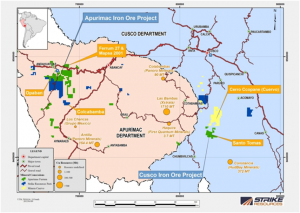 Above: AF and Cusco Project concessions