Overview
The Cusco Project currently comprises approximately 3 concessions totalling approximately 3,000 hectares  located 150 km to the east of the Apurimac Project area and 80 kilometres south of the historical city of Cusco.
The project forms an attractive secondary development target for the company in Peru. 
Like Apurimac, iron ore mineralisation at the project is coarse grained and dominated by magnetite, with high grades recorded.  Preliminary metallurgical tests indicate a concentrate grade of >65% Fe can be produced from this ore using conventional grinding and magnetic separation processes.
An initial inferred resource estimate of 104Mt at 32.6% Fe is recorded for the Project, which has the scope for upgrade following further exploration work (including drilling) which would support re-evaluation of the resource methodology.
Exploration and Geology
The main Cusco project area of Santo Tomas is centred on a large 2 kilometre diameter circular magnetic anomaly with north and north-east trending magnetic highs extending both north and south of the circular feature.  Extensive outcrops of high-grade iron ore coincide with the magnetic anomalies. Mapping and surface sampling indicates these outcropping zones commonly contain >60% Fe and contain a mixture of both haematite and magnetite. A resource estimate completed in 2011 based on a drilling program in 2008 outlined an Inferred Resources of 104.4Mt at 32.6% Fe with potential for a further 23 – 26Mt at 30 – 35% Fe. The mineralisation remains open along strike and at depth.  In addition, due to the broad nature of the drilling, a number of mineralised intercepts could not be included in the resource estimate. Further exploration drilling is required at Santo Tomas to close off the existing mineralisation and test the remaining 60 – 70% of the magnetic anomaly.  Magnetic image of Santo Tomas concessions showing current resource and potential outlines and target areas (black circles) in Figure 1 below.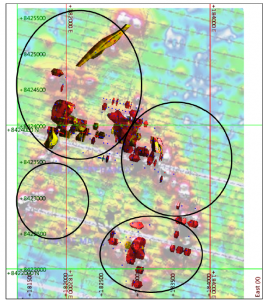 Figure 1
JORC Code Competent Person Statement
The information in this website which relates to Mineral Resources at the Cusco Project has been reviewed and confirmed by – and the information relating to exploration results at Cusco has been prepared by – Mr Ian Cullen, B.Sc. (Geology), who is an employee of Strike Resources Ltd and is a member of the Australasian Institute of Mining and Metallurgy. Mr Cullen has sufficient experience which is relevant to the style of mineralisation and type of deposit under consideration and to the activity which he are undertaking, to qualify as Competent Persons as defined in the 2004 Edition of the "Australasian Code for Reporting of Mineral Resources and Ore Reserves (the JORC Code)."   Mr Cullen consents to the inclusion in this document of the matters based on this information in the form and context in which it appears.