Overview
Key project features:
Concessions totalling approximately 72,800 hectares in the Southern Highlands of Peru.
JORC Resource of 269Mt of iron ore at Opaban of 57.3% Fe (142 Mt Indicated at 57.84% Fe and 127 Mt Inferred at 56.7% Fe).
Mineralisation predominantly high-grade, coarse-grained magnetite providing  comparatively high mass recoveries (>60%) at coarse grind size (>500 microns).
Excellent exploration potential within current concessions with several targets containing ironstones grading >60%Fe in similar geological settings to Opaban.
Base case of 20Mtpa of concentrate produced by open pit mining and processing 20 – 27Mtpa of ore with transport of the high grade (>66%Fe) product to the coast via a slurry pipeline for drying and shipment to customers.
Estimated capital expenditure (2010) of US$ 2.6 – 2.9 billion, competitive with other major iron ore projects.
Attractive life-of-mine operating expenses (2010) of US$ 17 – 20 per tonne of product
Undulating topography at project mine site.
Consolidation opportunities.
In August 2021 Strike achieved its maiden shipment of 35,000 tonnes of high-grade Apurimac Premium Lump direct shipping ore (DSO) from the Apurimac Iron Ore Project, to customers in China.
Product specifications for Strike's Apurimac Premium Lump DSO are as follows:
| | |
| --- | --- |
| Apurimac Premium Lump Specifications | % |
| Iron (Fe) | 65.99 |
| Silica (SiO2) | 2.76 |
| Alumina (AI203) | 0.65 |
| Phosphorus (P) | 0.059 |
| Sulphur (S) | 0.09 |
Table 1: Apurimac Premium Lump DSO Specifications
Location and Geography
The Apurimac project is located in the Southern Highlands of Peru.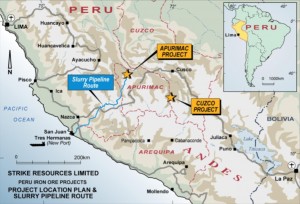 Strike's Interest
Strike holds an interest in this project through its 100% holding in Peruvian company Apurimac Ferrum SA (AF). AF owns the project's mineral concessions at Apurimac.
Studies
AF completed an initial Pre-feasibility Study (PFS) in 2008 based on the following primary parameters:
27Mtpa mining operation for 20Mtpa product.
Coarse, wet magnetic beneficiation producing >68%Fe product with low impurities.
Product transportation via slurry pipeline to coast for dewatering and export.
This study indicated the project is technically sound and hosted a number of competitive advantages, in particular:
High grade for magnetite deposits with the average grade for the Opaban deposit of 57.3%Fe being almost double that for most magnetite deposits.  This means the proportion of ore which reports to the final product is significantly higher than for most other deposits (>60% compared with 30 – 35% for most magnetite deposits).
Coarse-grained magnetite which means suitable concentrates can be produced at coarse grain sizes relative to most other magnetite deposits.  This significantly reduces the costs for grinding of the ore.
Broad, continuous and regular deposit shape providing relatively low stripping (waste to ore) ratios for open cut mining.
Sufficient water supply and reasonable local infrastructure.
A suitable deep water port facility.
Overall 3,500 metre fall to the coast providing pumping cost savings for the slurry pipeline.
During 2010 AF completed trade-off studies on the alternatives of production rates of 10 and 15Mtpa to produce either a concentrate or combined lump and fines products, to supplement the initial PFS.  The trade-off studies comprised:
Process Plant and Port Filtration Facility Study – conducted by Ausenco
Concept Mine Study – conducted by SRK Consulting
Concentrate Pipeline Study – conducted by Ausenco PSI
The results showed the project's capital costs are relatively insensitive to production rate, principally due to the significant portion of "fixed" costs associated with infrastructure.
Capital cost estimates for alternative production rates
Concentrate product
| | | | |
| --- | --- | --- | --- |
| | 20 Mtpa | 15 Mtpa | 10 Mtpa |
| Capex (US$) | $2,894m | $2,611m | $2,279m |
| Opex (US$) |  $17. 4/t |  $17. 4/t | $19.8/t |
Lump & fines product
| | | |
| --- | --- | --- |
| | 15 Mtpa | 10 Mtpa |
| Capex (US$) | $3,950m | $3,470m |
| Opex (US$) | $11.8/t | $11.8/t |
Note: Capital and operating expenses for the 20Mtpa options have been escalated from the 2008 PFS. Costs for the lower production options have been factored from the 20Mtpa case.
The mine will have a strip ratio of between 1.2 and 1.8.
A high conversion ratio (>80%) of resources to economically-recoverable material is likely based on current operating costs.  Mine sensitivity analysis indicates a robust project, relatively insensitive to mining costs, pit-design parameters and mining recoveries.
The mine has a potential life, based on an optimised pit on current Indicated and Inferred Resources, of 18yrs for 10Mtpa, 12yrs for 15Mtpa and 9yrs for 20Mtpa production rates.
The process plant and port facility for the 10 and 15Mtpa options offer advantages in reduced equipment sizing.  The "lump and fines" option provides a considerably simplified process circuit and, hence, reduced capital and operating costs.
JORC Resource
The Apurimac project has a JORC resource of 269.4 Mt, consisting of:
a 142.2 Mt Indicated Mineral Resource at 57.8% Fe; and
a 127.2 Mt Inferred Mineral Resource at 56.7% Fe.
Combined Mineral Resources for Opaban 1 and Opaban 3 are summarised in the table below. Combined total Mineral Resources for Opaban 1 and Opaban 3
| | | | | | | | |
| --- | --- | --- | --- | --- | --- | --- | --- |
| Category | Density t/m3 | Mt* | Fe% | SiO2% | Al2O3% | P% | S% |
| Inferred | 4 | 127.19 | 56.7 | 9.66 | 2.7 | 0.04 | 0.20 |
| Indicated – Opaban 1 (40% Fe cut-off) | 4 |  133.71 | 57.57 | 9.46 | 2.54 | 0.04 | 0.12 |
| Indicated – Opaban 3 (within 55% Fe envelope) | 4 | 8.53 | 62.08 | 4.58 | 1.37 | 0.07 | 0.25 |
| Totals | | 269.4 | 57.30 | 9.40 | 2.56 | 0.04 | 0.16 |
Full details of the basis for the Resource estimation are contained in Strike's 11 February 2010 ASX Announcement Apurimac Project Resource Upgrade.
Community Relations
Strike has previously established a strong community relations team based in Peru, who maintained dialogue and worked closely with the local communities and stakeholders. Strike has made significant investments in local infrastructure and community projects in support of the local communities.
Metallurgy
The Apurimac iron ore has excellent metallurgical properties which provide significant advantages for the project. These properties include:
The presence of potential direct shipping ore (DSO).
Coarse-grained, friable (soft) magnetite is present at depth with:

coarse particle liberation size of at least 250 microns and potentially a large as 1mm (against an industry average of 30 – 40 microns) which reduces energy costs for the beneficiation process.
greater than 60% mass recovery (against an industry average of 30 – 40%).
no floatation circuit required at Opaban.
the possibility for dry magnetic separation to produce a "sinter fines" product.
The metallurgical testwork programs are designed to translate these advantages into reduced operating costs and improved project returns.
Exploration Potential
Historical work done by the Peruvian Government's Department of Mines and the Takahashi Trading Company indicate potential iron ore mineralisation in the Apurimac project of 700Mt at 58% to 62% Fe. (The potential quantity of the target iron ore mineralisation is conceptual in nature.  There has been insufficient exploration to define an additional Mineral Resource in relation to that target iron ore.  It is uncertain whether further exploration will result in the determination of an additional Mineral Resource in relation to that target iron ore.) The project resource of 269Mt is located entirely on two concessions: Opaban 1 and 3.
JORC Code Competent Person Statement
The information in this website that relates to exploration results and mineral resources has been compiled by Mr Ken Hellsten, B.Sc. (Geology), who is a consultant to Strike Resources Ltd and is a Fellow of the Australasian Institute of Mining and Metallurgy. Mr Hellsten has sufficient experience relevant to the style of mineralisation and type of deposit under consideration and to the activity which he is undertaking to qualify as a Competent Person as defined in the 2004 Edition of the "Australasian Code for Reporting of Mineral Resources and Ore Reserves" (the JORC Code). Mr Hellsten consents to the inclusion in this document of the matters based on this information in the form and context in which it appears.